Dear, Katie:
My girlfriend brought it up to me that she wants to try a threesome with another girl. She is not very comfortable talking to other girls about it and just knows it's something that she wants to try. Do you have any tips or ideas on how to find a girl and how to talk to her about this fantasy?
Thanks,
DJ
Dear DJ:
First off both of you should talk about the kind of threesome you would like. You have the first part down that y'all want it with another woman, so now discuss what kind of stuff you want to do with her and the other girl and vise-versa.
Is there a girl you two have in mind? If so, do you think she will want to be part of the threesome? Sometimes it's not about that. You never know you or your girlfriend might come across a girl that is into what y'all are looking for and is totally down to join.
Some people prefer to do threesomes with persons they are not close to because they are afraid it could mess up the ongoing relationship that's already taken place. I suggest trying it with someone y'all know but a person who is not a best friend because no one needs to be jealous of another person.
Have your girlfriend talk to a couple friends and ask if they ever been involved in a threesome and ask what they think about them. You never know what kind of answer you will receive. It may even spark one of those friends to be interested in doing it with the two of you.
Love,
Katie
This Week's Tip: Be comfortable with talking about it. Threesomes are very common in today's society. Some people might shun the idea, but deep down they wonder what it's like.
Follow editor Erika Icon with @TheRubPR for all the Porn News or go to & TheRubPR.
Follow us at @KatieSummersXXX & @PornCorp for naughty pics & the newest porn.
Return to the Ask Katie home page to read all of pornstar Katie Summer's insightful sex advice.
Email Katie directly at askkatiesummers@yahoo.com & don't be shy with your sexual questions!
Sex Advice with Katie Summers
Porn Corporation Categories
Ask Katie Summers Advice On Sex
Email pornstar Katie Summers your sex questions for in depth answers & a weekly naughty tip! Your question could be featured in Ask Katie next week. Email Katie Summers directly at
askkatiesummers@yahoo.com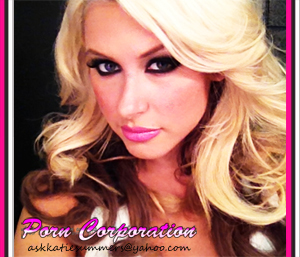 Ask Katie Summers Homepage